Everything You Need To Know About Voting In Wisconsin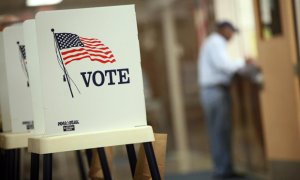 Tomorrow, November 6, 2018 is Election Day.  In Wisconsin, there are several statewide races on the ballot including Governor, United States Senator, Attorney General, and State Treasurer.  There are also races for Congress in Wisconsin's eight congressional districts and other local races.  Please make sure that you make a plan to go vote tomorrow.
Voting can be intimidating or simply an inconvenience given our busy schedules.  However, it is vitally important.  The fewer people that vote, the more power is concentrated to those that do, often times at the expense of those that do not vote.  So, to make it easier, KEW Tips wants to strip away the myths and misconceptions about voting so that you can exercise your rights.
Eligibility and Registration
To be eligible to vote in Wisconsin you need to be a U.S. citizen, 18-years-old by Election Day, and a resident of the election district or ward in which you are voting for at least 10 days prior to the election. You can register at the polls on Election Day so long as you meet these criteria. However, you are disqualified from voting if you are still serving a sentence for a felony – even if still on probation or extended supervision ("on paper"), if you have been adjudicated incompetent, or if you have bet on the outcome of the election.
To register to vote at the polls, you will need to bring a proof of residency. The following documents can be used for proof of residency so long as they have your full name and current address: 1) an unexpired Wisconsin driver license (even if suspended or revoked), or Wisconsin ID card; 2) any ID card issued by a Wisconsin governmental body or unit; 3) an ID card issued by your employer that is used in the normal course of business with your photo on it; 4) a real estate tax bill; 5) student ID card along with a tuition fee receipt no older than 9 months; 5) utility bill (electric, gas, telephone, cell phone) no older than 90 days; 6) bank statement or credit card bill; or 7) a current and effective residential lease. If you are currently homeless, then you will need an affidavit, on letterhead from a public or private social service agency, identifying you and your residence for voting purposes, such as a shelter or other fixed location that could serve as a temporary residence. Proof of residency can also be shown electronically – thus, all you may need if your smart phone so long as you can show electronic bank statements, utility bills or other qualified documents.
Photo ID
In addition to that, to actually vote, you will need to show a photo ID at the poll. The most common accepted forms of ID are a Wisconsin driver license, a Wisconsin sate issued identification card, a U.S. passport, or a military ID issued by a U.S. uniformed service. These forms of ID are still valid for voting even if they expired since the last federal election.  So, if your ID expired on or after November 9, 2016 you can still use it to vote.
Other acceptable forms of ID are a current or expired tribal ID from a federally recognized tribe in Wisconsin, an unexpired veteran affairs ID or one without an expiry date, certificate of naturalization dated on or after November 8, 2016, driving license receipt issued by the DOT  no more than 45 days prior to election day, or a university ID with your name, signature, photo, date issued, and an expiration date no more than 2 years beyond the issue date.
Provisional Ballot
If you fail to bring your photo ID to the polls, you can still vote by casting a provisional ballot. A provisional ballot is a ballot that a voter casts but is kept aside and only counted upon a contingency being met.  In this scenario, for your vote to count, you must present your photo ID at the polling place either before it closes at 8:00 p.m. or at your municipal clerk's office by 4:00 p.m. on Friday, November 9, 2018.
Other Information
Finally, if you have children and cannot find child care, do not worry.  You are allowed to take minor children into the voting booth with you so do not let a last minute cancellation from a babysitter cancel your vote.
The polls are open from 7:00 a.m. until 8:00 p.m. If you are in line by 8:00 p.m. then you can cast your ballot even if the line is a four-hour wait. Also, if you are being intimidated or subject to pressure while voting or waiting to vote, alert an election official at your polling location immediately. If you need to check your registration, polling location, or what's on your ballot, go to www.myvote.wi.gov.