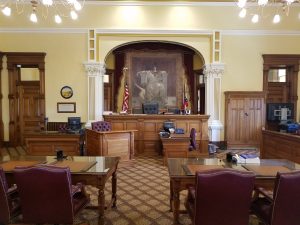 How to make a proper record in the trial court, whether during a motion hearing or in a trial, is not something that is taught in law school. Yet, meticulous preparation in making a strong record is one of the most effective tools for successful litigators. When attempting to make the best record you can in court, the most crucial thing an attorney can always ask is "how will this read in a transcript?" and "Will it make sense to someone who reads a transcript who was not devoted months to learning the facts of this case?" Young lawyers to part-time litigators to experienced litigation attorneys who need a refresher need to keep in mind the below tips for effective record making.
Be specific and avoid generalities
One of the most common mistakes to avoid is allowing witnesses to testify using general language such as "this/that document," "his/her/their car," or "three fifty."  Even with broader or proper context, it may not always be clear to what a witness is referring. If a witness is testifying about an exhibit and refers to "this document," an attorney's very next follow up question should be "when you refer to 'this document' are you referring to Exhibit 1?" It could be the witness has been testifying about the same exhibit for 15 minutes from when it was first identified. That means an appellate court may have to sift through several pages of transcript just to find out to what document the witness is referring.
Similarly, when a witness uses pronouns, an attorney should ask "when you refer to 'his car' you mean John Doe's car?"  With the final example "three fifty" what? Is that time of day? A.M or P.M.? Is that an amount of money? $3.50? $350? $350,000? The question preceding that answer may provide some context, but it is important to make sure the answers are as clear as possible. An attorney in court should stay conditioned to listen for vague descriptors and clarify as soon as possible.
Make offers of proof
Too often, when the court sustains an objection to offered evidence, attorneys will simply accept it and move one. However, the attorney whose evidence is excluded has the opportunity to make an offer of proof with respect to the excluded evidence. Wis. Stat. section 901.03(1)(b). If the attorney fails to make an offer of proof then they waive any argument on appeal that the exclusion of evidence was an error on the part of the trial court. (Id.)
A trial court will almost always permit an offer of proof from an attorney as it helps the trial court form a better basis for its ruling. State ex rel. Schlehlein v. Duris, 54 Wis. 2d 34, 39, 194 N.W.2d 613 (1972)  An offer of proof "need not be stated with complete precision or in unnecessary detail but it should state an evidentiary hypothesis underpinned by a sufficient statement of facts to warrant the conclusion or inference that the trier of fact is urged to adopt." State v. Pulizzano, 155 Wis. 2d, 633, 652, 456 N.W.2d 325 (1990).
Therefore, to make an adequate offer of proof, an attorney should state the evidentiary basis for the evidence's admissibility, explain the facts and inferences from those facts that the evidence would show, the importance of that evidence to the case, and effect the evidence would have in relation to the matter at hand.
Help the Court
Unsurprisingly, the trial court plays a crucial record in making your record – particularly when it issues decisions on motions and claims that are left to its discretion. With discretionary decisions the trial court must examine the relevant facts related to the issue at hand and apply the proper legal standard to articulate a "rational process" to come to a "reasonable conclusion." Dalka v. Wisconsin Cent., Ltd., 2012 WI App 22, ¶51, 339 Wis. 2d 361, 811 N.W.2d 834.
What happens then when the court grants a motion an attorney files, but the attorney believes the court did not apply the "rational process" to reach the "reasonable conclusion?" Speak up! Ask the court to clarify its ruling on how it treated certain facts to reach its decision. Obviously, such clarifications should be approached with the appropriate deference and respect to the court. However, the last thing an attorney wants is a good result with poor reasoning that could lead to a reversal or remand on appeal. Do not be shy in seeking the clarification needed to ensure the trial court's decision with withstand scrutiny.
Use Motions in Limine
Motions in limine are used to decide evidentiary disputes and limit evidence ahead of trial and are a standard and important part of pre-trial practice with jury trials. That said, do not be shy in using them in bench trials either. They are useful for evidence that is potentially prejudicial or inflammatory, or an evidentiary issue involving a significant number of witnesses or voluminous documents, or evidence that is unresolved under existing law. State v. Wright, 2003 WI App 252, ¶40, 268 Wis. 2d 694, 673 N.W.2d 386. In other words, when used properly, motions in limine can make the trial process run more smoothly and efficiently. With a jury trial, an attorney can run the risk of losing the jury if they make too many objections at trial – particularly if those objections are overruled.
Be specific with your motions in limine. Describe specific evidence – whether testimony or documents- you wish to limit and argue the evidentiary basis for that evidence's exclusion.  Do not file generic motions in limine that simply regurgitate the rules of evidence, i.e. requesting to limit any evidence based on hearsay, that lacks foundation, or that is otherwise inadmissible. See Matter of Commitment of T.W., 2021 WI App 74, 966 N.W.2d 278, 2021 WL 4205163 (unpublished)
Finally, if the court denies a motion in limine or defers a decision until it hears the evidence at trial, then make sure to object again at trial, even though an objection was raised pre-trial through a motion in limine. Failure to do so may waive the issue on appeal. See State v. Bergeron, 162 Wis. 2d 521, 825-29, 470 N.W.2d 322 (Ct. App. 1991); State v. Chambers, 207 Wis. 2d 644, 559 N.W.2d 924, 1996 WL 731243 (Ct. App. 1996)
Make sure the court reporter is in the room and is typing
Just because an attorney is in the courtroom with the judge, it does not mean it is on the record. Make sure the court reporter is in the room and typing – that is the only way to know if what you argue is on the record. Sometimes during pre-trial, during trial and post-trial, the court will hold informal conferences and discussions off the record. If this happens, an attorney should ensure that any objections or arguments they make during these off the record discussions are placed into the record at the next available opportunity.
For instance, during a jury trial, courts are required to hold a jury instruction conference between the close of evidence and prior to closing arguments. Wis. Stat. section 805.13(3). There are courts that hold this conference off the record. Similarly, during sidebar discussions in jury trials, some courts are not equipped for the court reporter to hear the discussions between the court and that attorneys. In these examples, if the arguments made during off the record discussions do not make it onto the record, then they are waived because the court of appeals has nothing to review. Steinberg v. Jensen, 204 Wis. 2d 115, 120-21, 553 N.W.2d 820 (Ct. App. 1996); State v. Trammell, 2019 WI 59, ¶25, 387 Wis. 2d 156, 928 N.W.2d 564.
This article was originally published in the State Bar of Wisconsin Taxation Law Section's Taxation Law Blog.