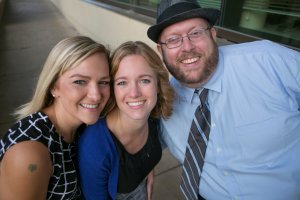 KEW is 5!
October 1, 2020 | KEW News
On this day, five years ago, Jessica, Leslie and Nick officially opened up shop as Kramer, Elkins & Watt, LLC. As we celebrate five fabulous years with mostly ups and a few downs, we thought it would be fun to do an alternative post with some fun KEW facts.


How did the three KEW partners originally meet?
All three worked at a law firm located on the west side of Madison.


Whose idea was it to start KEW?
Nick got the ball rolling by approaching Jessica with the idea, and soon Leslie was at the table for discussion as well.


What type of administrative work do each of the partners handle?
The firm's resident "Type A", Jessica is in charge of operations of the firm which includes staff management and benefits administration.
The creative soul of the bunch, Leslie is in charge of marketing which involves maintaining the website, blog and advertising.
Nick, with a mind like a steel trap for numbers and data is all things financial.


What do the three partners do in their spare time?
Practically nothing because we're mid-pandemic. But in normal times:
Jessica is a Wisconsin native and likes weightlifting, biking, cooking, hanging with family, cheering on the Packers, and swearing like a sailor over beverages with friends.
Leslie hails from the great state of Illinois and likes swimming, cooking, walking Troy (world's best dog), outdoor adventures, family time and enjoys sipping wine.
Nick is also a fellow Illini and enjoys St. Louis Cardinals baseball, politics, karaoke, and his beverage of choice ranges from beer to bourbon.


What would we be doing if we were not in a pandemic?
We would be in Munich at Oktoberfest! Many years ago, when KEW was an infant, Nick suggested we go to Munich for KEW's 5th birthday. All three lovers of beer, we quickly agreed. This is why we work so well together – we recognize fantastic ideas and act on them. But, we are here, celebrating with tacos at our desks, by ourselves, in the interest of health and safety. Sigh. But, we will banter via our instant message system with each other while eating those tacos which is almost as great as Oktoberfest. At least, that is what we are telling ourselves.


What else should we put in this post?
Landlord
MHC
Manufactured Housing Community
Employer
Employment Law
Business
Family Law
Divorce
Litigation
Dispute
Appeals
Wisconsin
Madison
Statewide
Dane County
All blog articles are supposed to have keywords buried within, so there you go. Buried. And, in case you didn't know, those keywords also correspond with the types of legal services offered at KEW, and some locations too.


How about a fun legal fact?
The first woman licensed to practice law in the state of Wisconsin was Rhoda Lavinia Goodell. She was admitted in 1874.


That's all folks. Have a great day!
Thanks for your support these past five years, and we look forward to being part of the Madison legal community for many years to come!