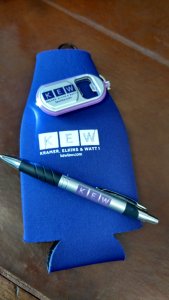 Thank you to everyone who helped us celebrate Kramer, Elkins & Watt, LLC by attending our KEW chili cook-off open house last Friday.
Congratulations to the following winners:
Chili champion: Dave Miller
Trivia champion: Luke Briggs
Door prize winner: David Reddington
Door prize winner: Jim Schuessler
Door prize winner: Jordan Truttschel
Thank you to Sue Jensen for bringing delicious chocolate chip cookies! Several people requested the recipe, so here it is. You can bookmark this page for easy access to this recipe and other information, or click here for a printable pdf of the recipe.
Chocolate Chip Cookies by Paulette Heller
6 c flour
2 tsp baking soda
1 1/2 tsp salt
1 c softened butter
1 c Crisco butter flavor shortening
1 1/2 c sugar
1 1/2 c brown sugar
2 tsp vanilla
4 eggs
4 c chocolate chips
Stir dry ingredients and chocolate chips together and set aside. Cream butter, shortening and sugars. Add eggs and vanilla. Add dry ingredients and chocolate chips. Mix together. Drop onto cookie sheet. Bake at 375 for 10 to 12 minutes.