DANE COUNTY TO RE-ISSUE MASK MANDATE, EFFECTIVE AUGUST 19
August 17, 2021 | COVID | Current Events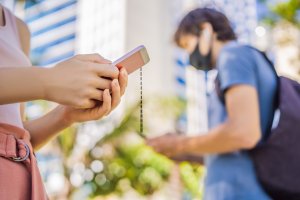 Public Health of Madison and Dane County (PHMDC) announced a new, county-wide mask mandate on August 17, 2021 to go into effect on August 19, 2021. Citing evidence that fully vaccinated people can still transmit the Delta variant of COVID-19 to others, PHMDC noted that countywide 7-day case average has risen from 19 on July 19, 2021 to 91.6 on August 12, 2021, an increase of 382%. The text of the order can be found here.
2 and up – Mask up
PHMDC is, with some exception, requiring all individuals 2 years old and older to wear masks when in any enclosed space open to the public where other people, except for members of the person's own household, are present, including while driving or riding in any form of public transportation. Note, this is a change from the prior mask order which was targeted only to individuals age 5 and older.
Mask can be removed when:
The exceptions referenced above are the following:
While eating or drinking.
When communicating with an individual who is deaf or hard of hearing and communication cannot be achieved through other means.
While obtaining a service that requires the temporary removal of the face covering, such as dental services.
While sleeping.
While swimming or on duty as a lifeguard.
When engaging in work where wearing a face covering would create a risk to the individual, as determined by government safety guidelines.
When necessary to confirm the individual's identity, including when entering a financial institution.
When federal or state law or regulations permit the removal of a face covering.
You don't need to wear a mask if:
PHMDC has also stated that children under the age of 2, unconscious or incapacitated individuals, and those with medical/mental health conditions or developmental disabilities that prevent the individual from wearing a mask are exempt from this order.
Written Protective Measures Policy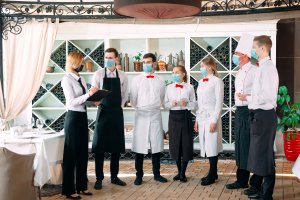 All places subject to this order must develop and implement a written protective measures policy ensuring that employees are provided with, and wear, face coverings at all times required under the order. All places subject to the order must also post a sign, such as the model sign found here, notifying the public that face coverings are required. This applies to residential properties like apartment buildings and condominiums with shared common indoor spaces open to the public.
What is a face covering/mask?
The order very specifically defines what is considered a face covering that complies with the mandate. A face covering must do the following:
Cover the mouth and nose completely
Be secured to the head with ties, ear loops or elastic bands that go behind the head
Fit snuggly on the side of the face
Be made with two or more layers of tightly woven breathable fabric
The following is not considered an acceptable face covering:
Bandana
Single layer neck gaiter
Face shield
Goggles
Scarves
Ski masks
Balaclavas
Shirt or sweater collars pulled up
Masks with slits, exhalation valves or punctures
The order expires on September 16.
Contact KEW
As always, if you have questions about the rights and obligations of your business under Dane County's latest order or other orders, requirements, and guidelines surrounding COVID-19, feel free to contact Kramer, Elkins & Watt, LLC at 608-709-7115 or info@kewlaw.com.